INFINITE MATERIALS
Exhibition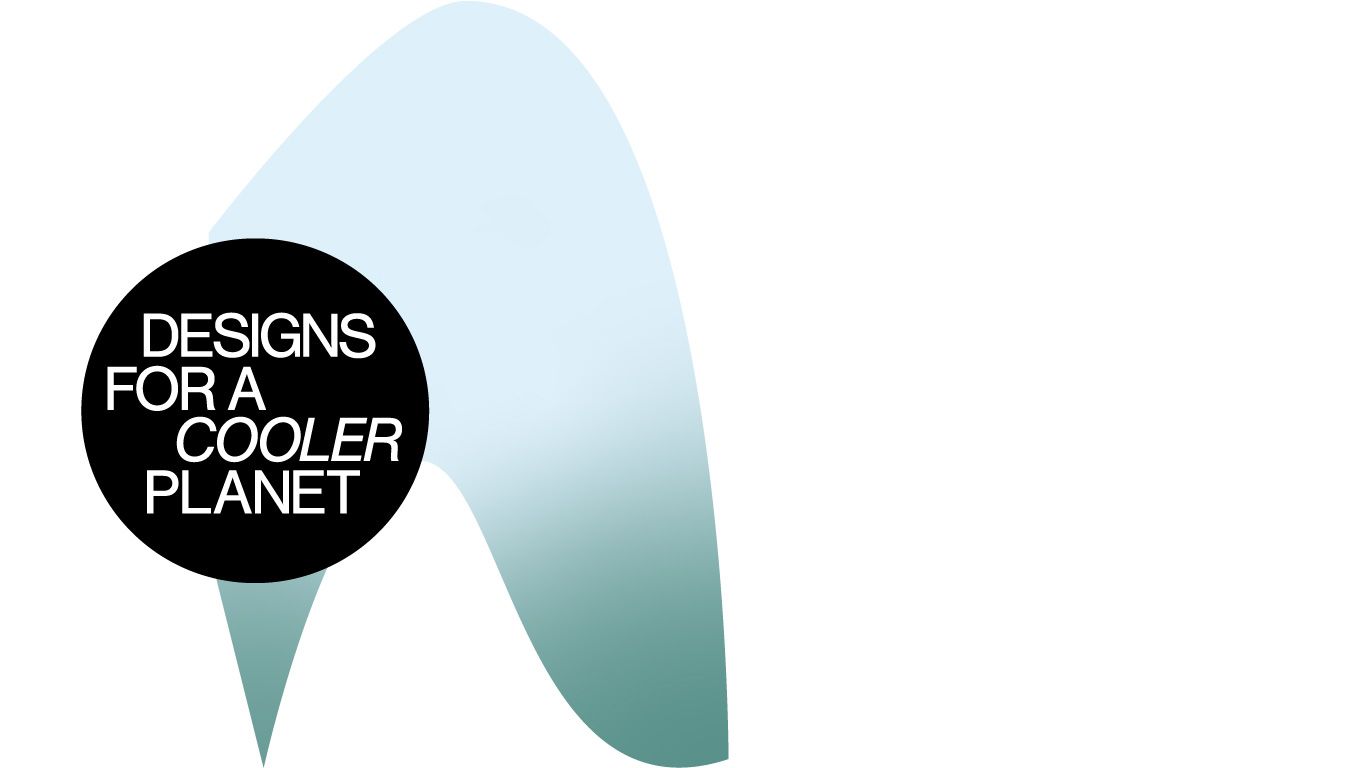 Population growth and rising standards of living will continue to drain our planet's resources unless we turn to cheap and abundant reusable alternatives.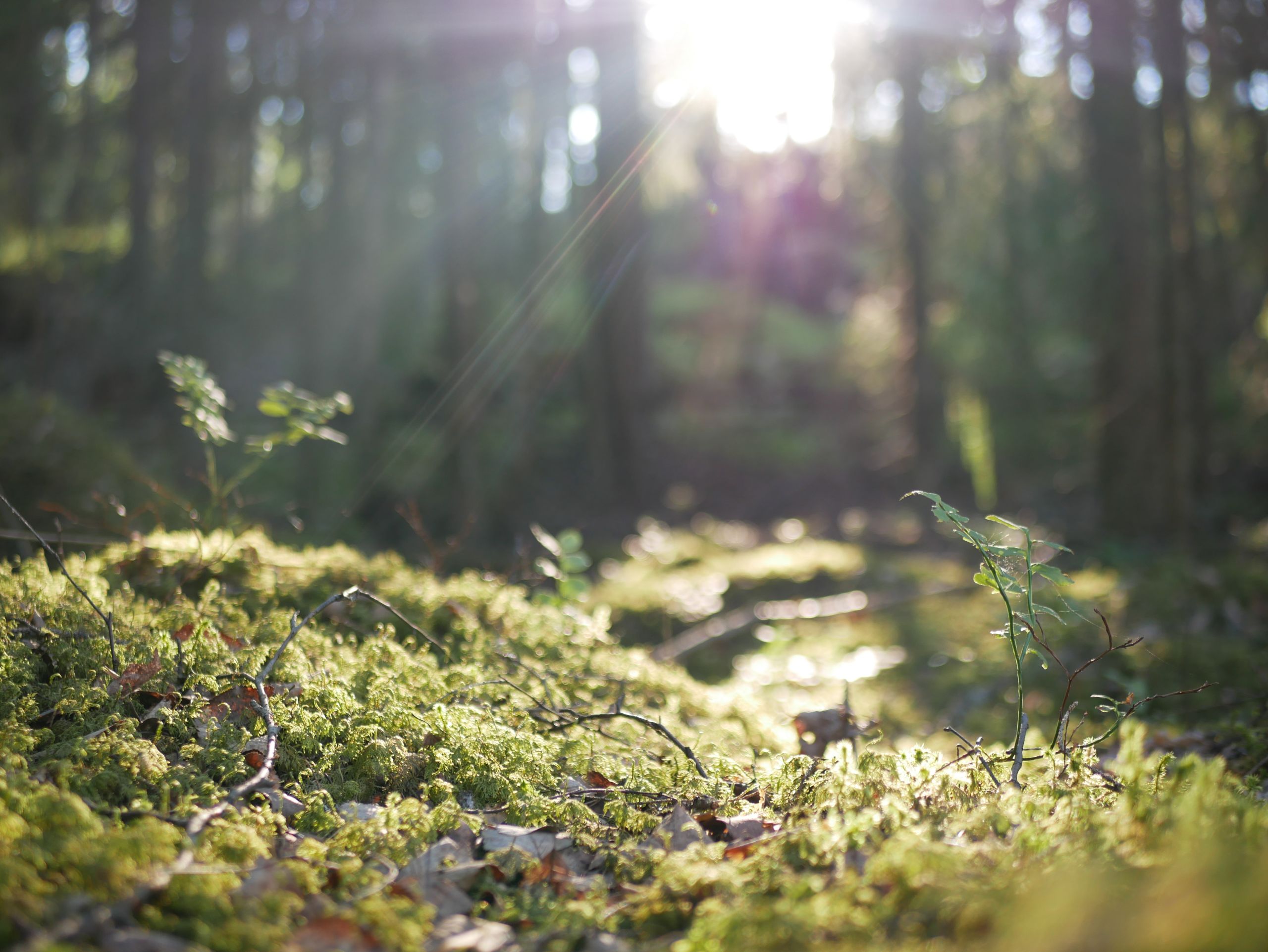 Forests through Design photo: Saara Kantele
Forests through Design photo: Saara Kantele
Our current global material use amounts to 1.6 Earths annually — and this is expected to double by 2050.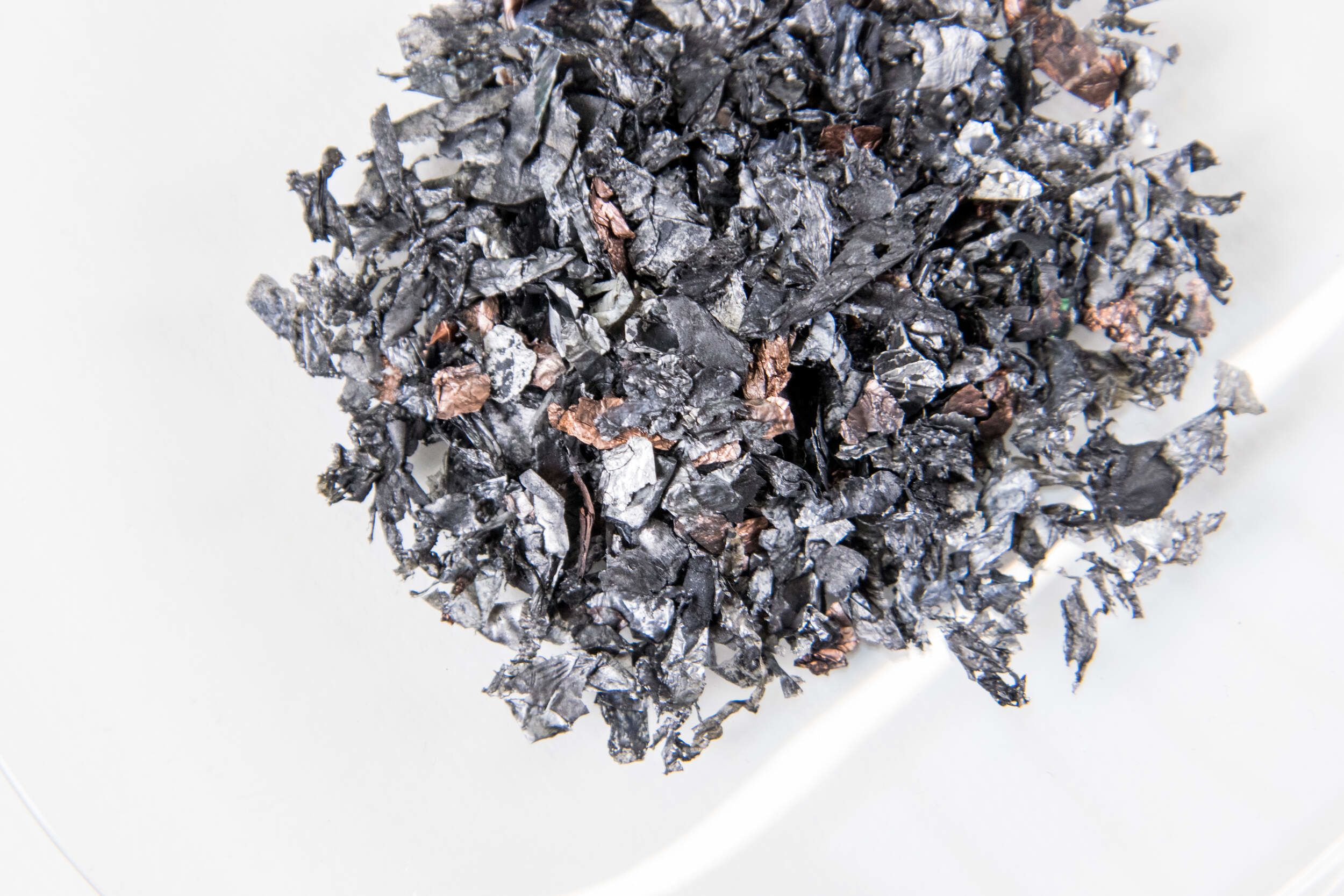 WE CONSUME AND WASTE TOO MUCH: 
100 million barrels: our average consumption of oil each day.
300 million tonnes of plastics produced yearly, less than 10% recycled.
Measured by weight, there could be more plastic than fish in the ocean by 2050. Plastic food packaging is the most common type of beach trash. 
Electronic waste grew by 38% in 2010-19, recycling rate less than 20%.
---
OUR TARGET: FOREVER REUSABLE 
Aalto University researchers have experimented with novel materials and new production methods that can provide alternatives to harmful synthetics.
Have a look at some fascinating biomaterial concepts.
---
This virtual tour showcases some of the Infinite Materials projects
Väre, Otaniemi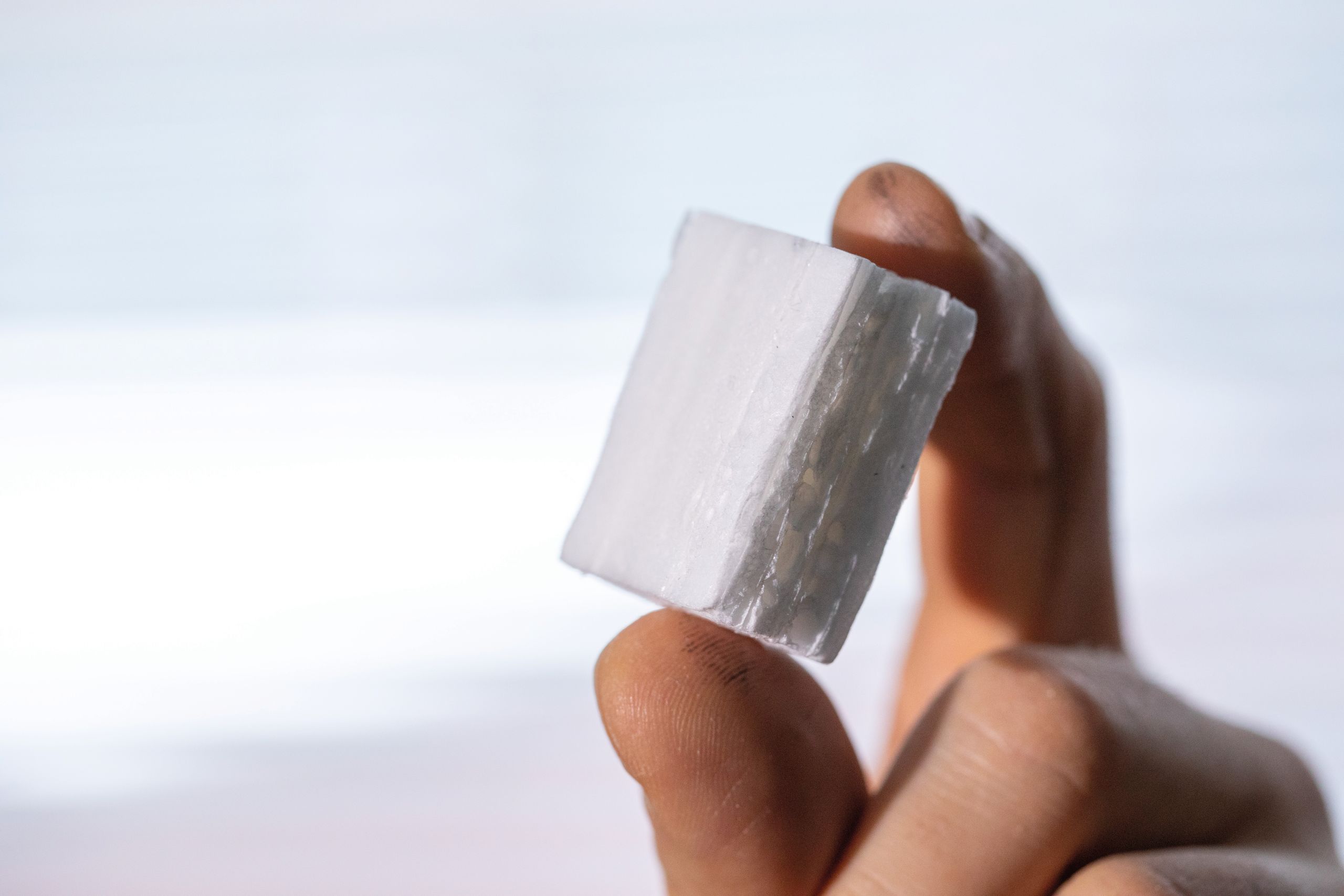 Discover a sustainable, strong and heat-resistant revolution for packaging
Construction and online shopping boosting demand for plastic-based building and packaging materials.  
What if we had a bio-based alternative? Aalto researchers have developed a wood-based foam material that is light, durable and flexible as well as renewable and biodegradable, of course.      
In future, it could replace materials like styrofoam and bubble wrap as well as insulate buildings – and even become a raw material for the food industry.       
FoamWood also shows great potential as an alternative material for a multitude of applications, such as wind turbines, layered insulation boards, agricultural growth mediums and other uses that involve shock proofing, insulation and/or have light weight requirements. It can also help cut plastic pollution as well as facilitate the recycling and/or correct disposal of these products.
---
Photos: Anne Kinnunen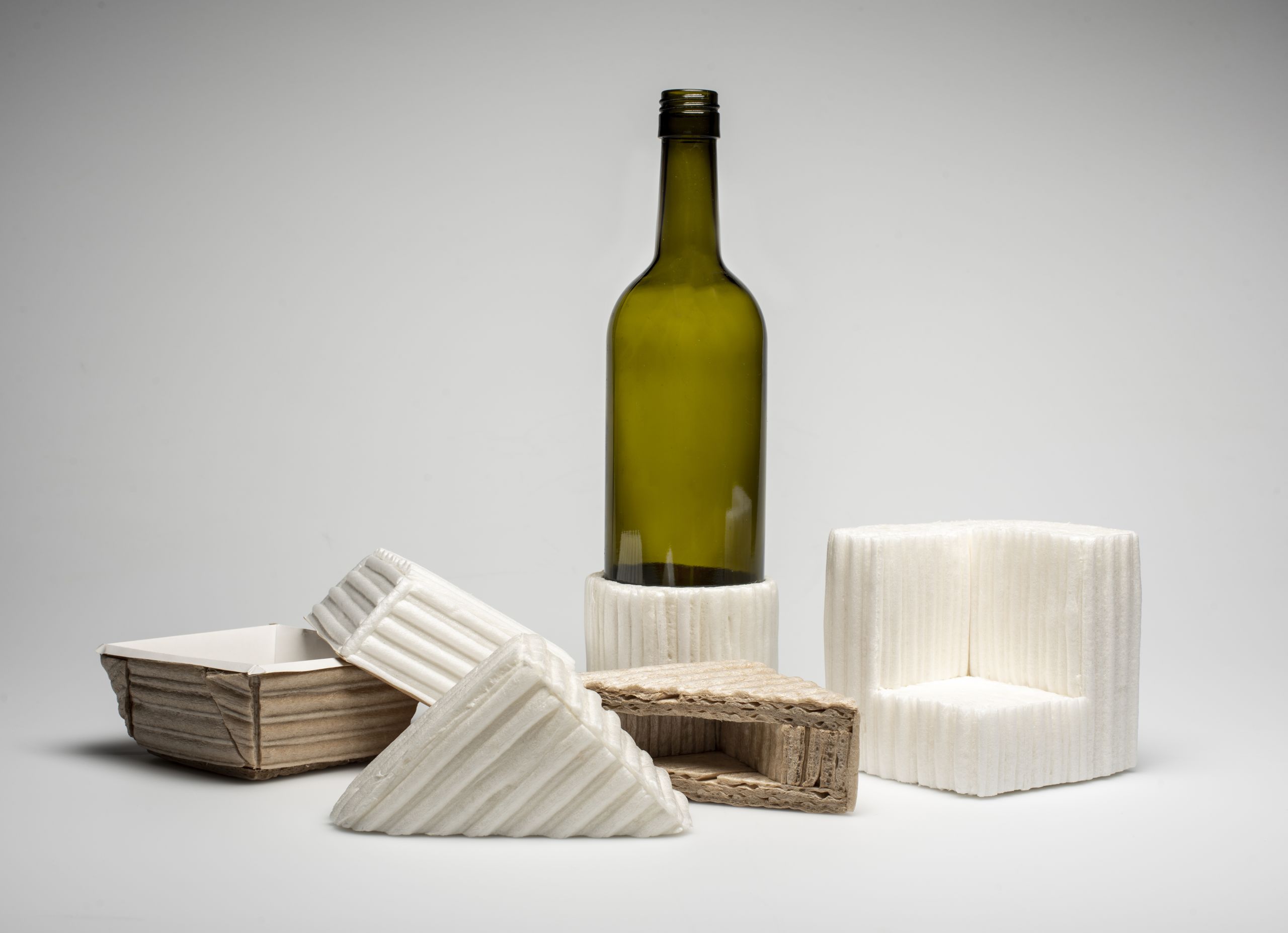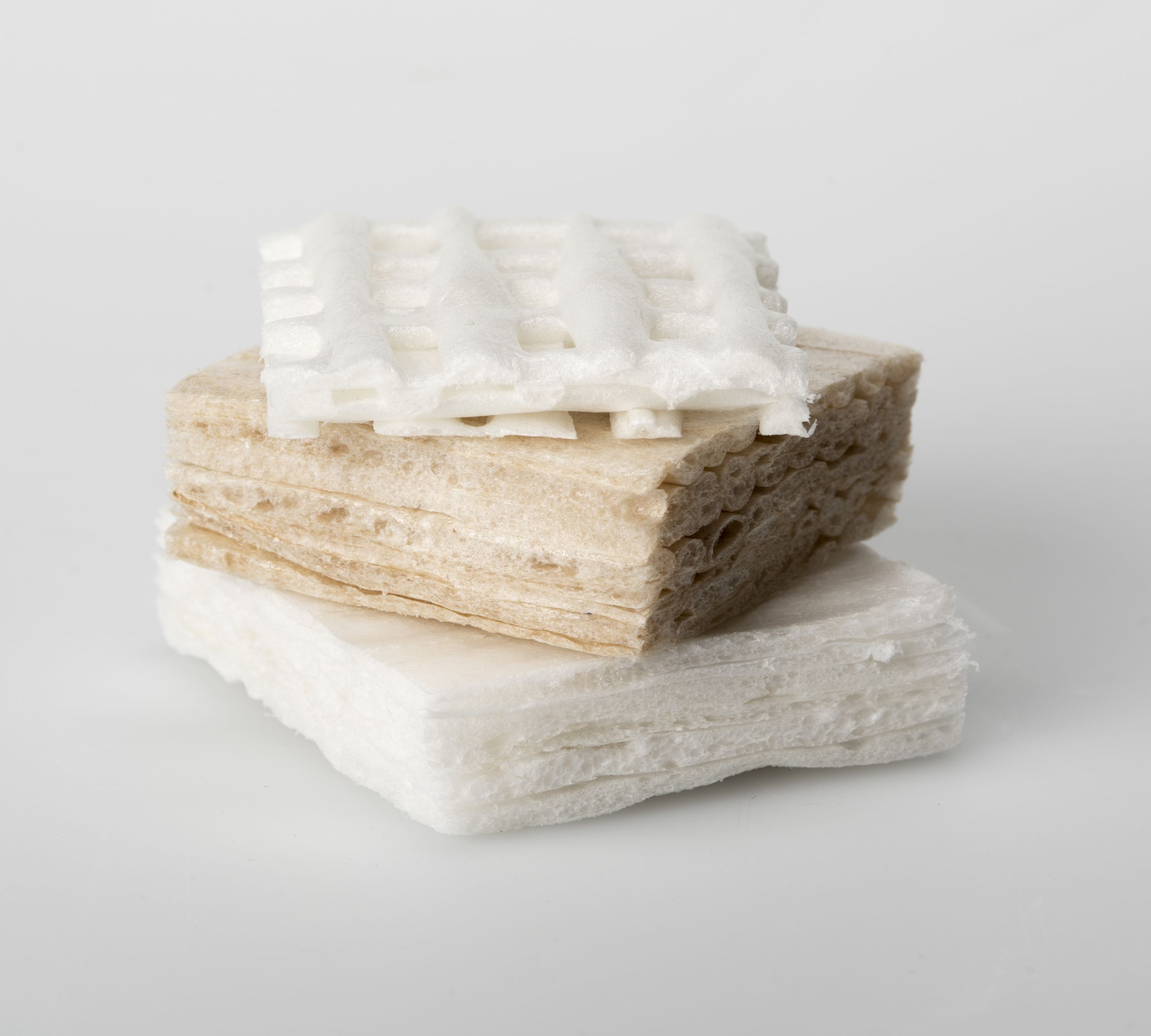 From combustion waste to the brown gold of the forests  
Lignin is the binder material in wood. It is very difficult to process chemically, which is why it has usually been burned to generate energy.       
Now, Aalto researchers have developed a simple and economical way to make spherical lignin particles, which can replace fossil raw materials and toxic chemicals in adhesives and coatings, for example.      
The invention is significant not only for the environment, but also for the economy, as it could transform almost a third of forest industry material from energy waste to a valuable raw material. This would also significantly decrease the forest and biomaterials sector's carbon dioxide emissions. 
Lignin could replace tonnes of fossil-based coatings. There would be less need for harmful fossil-based chemicals in applications like plywood adhesives and coatings. Reduced formaldehyde fumes would also improve the quality of indoor air.  
---
 Photos: Alexander Henn (1&2), Fotoni Film & Communications (3)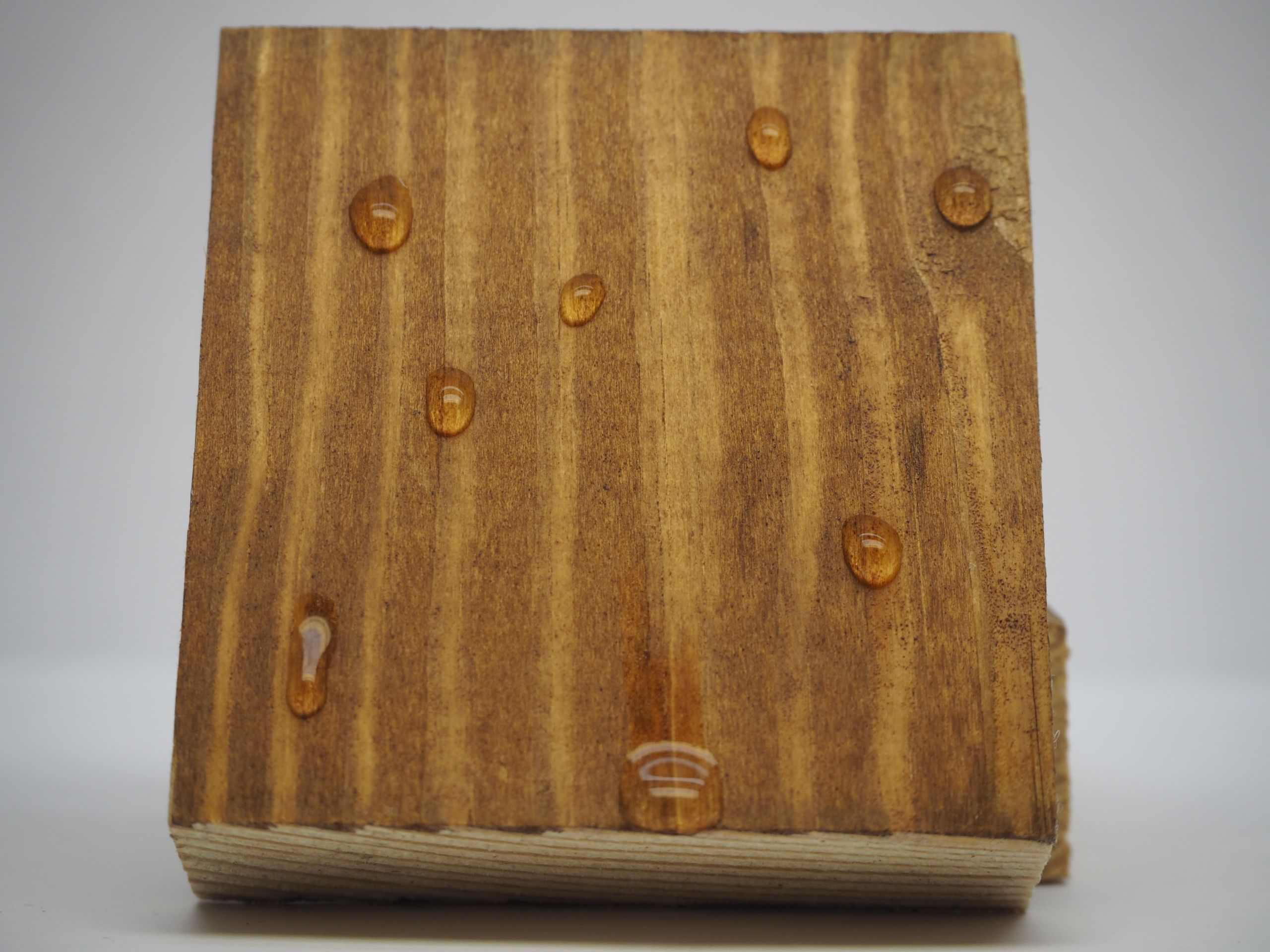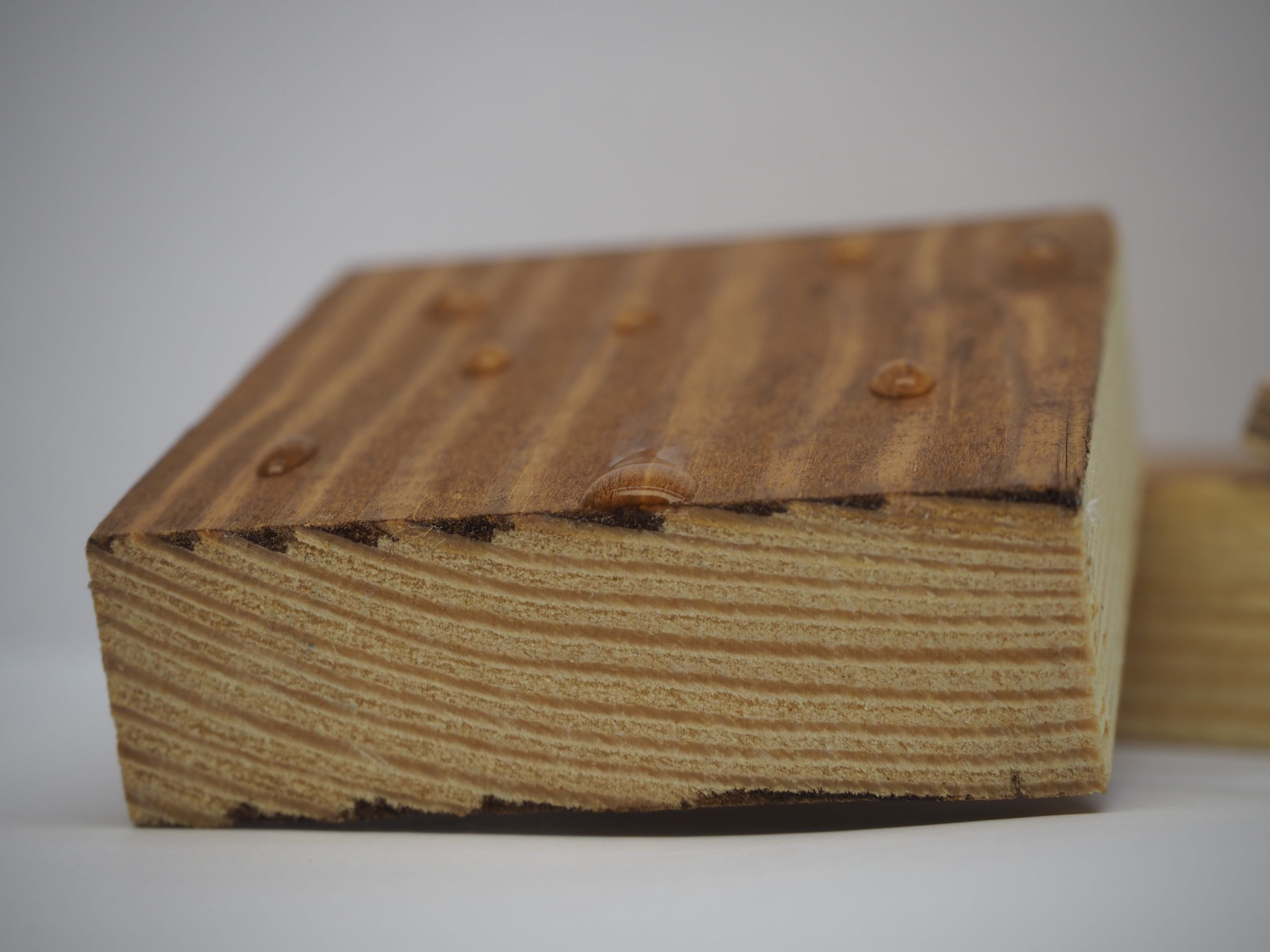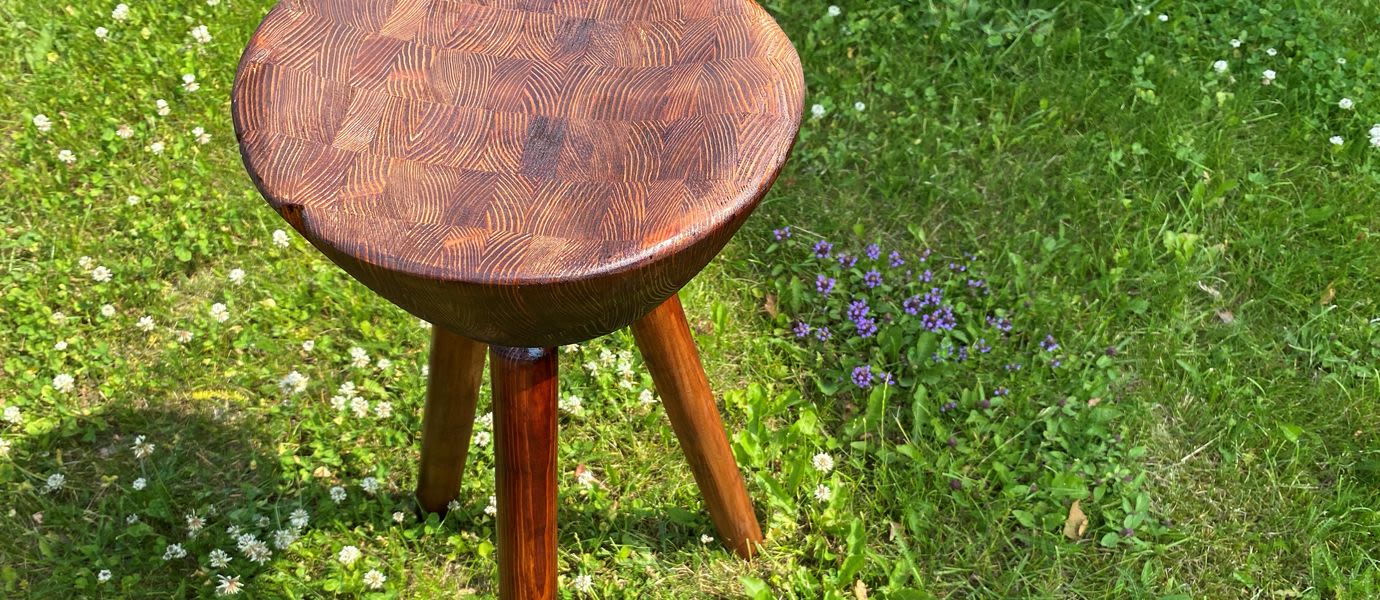 Future biorefineries improve yield and reduce chemical load
Biorefineries produce commodities from renewable biomass resources such as trees and agricultural waste.       
Traditional biomass fractionation technologies underutilise raw materials and can thus only operate profitably with the economy of scales and using environmentally concerning sulphur compounds.     
Gamma-valerolactone (GVL) is a biomass-derived chemical with low toxicity. It enables safe and environmentally benign biomass fractionation that is compatible with existing machinery and profitable even on a smaller scale. This is because the process is completely sulphur- and chlorine-free, so biomass can be utilised almost entirely – not only the cellulose fraction, but also other wood components (hemicellulose, lignin, extractives). However, GVL is more expensive than most other pulping solvents.  
---
Photos: Marianna Granatier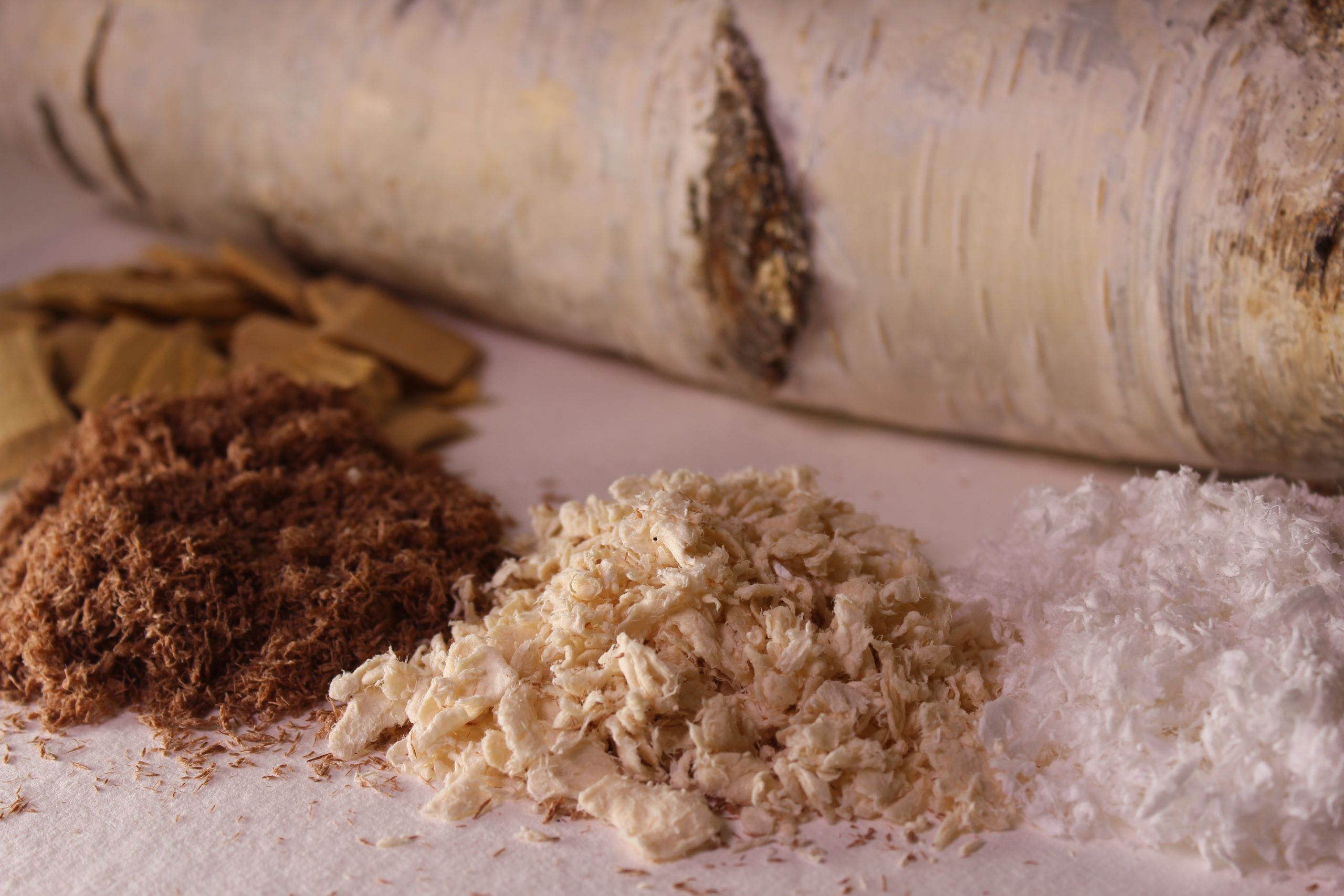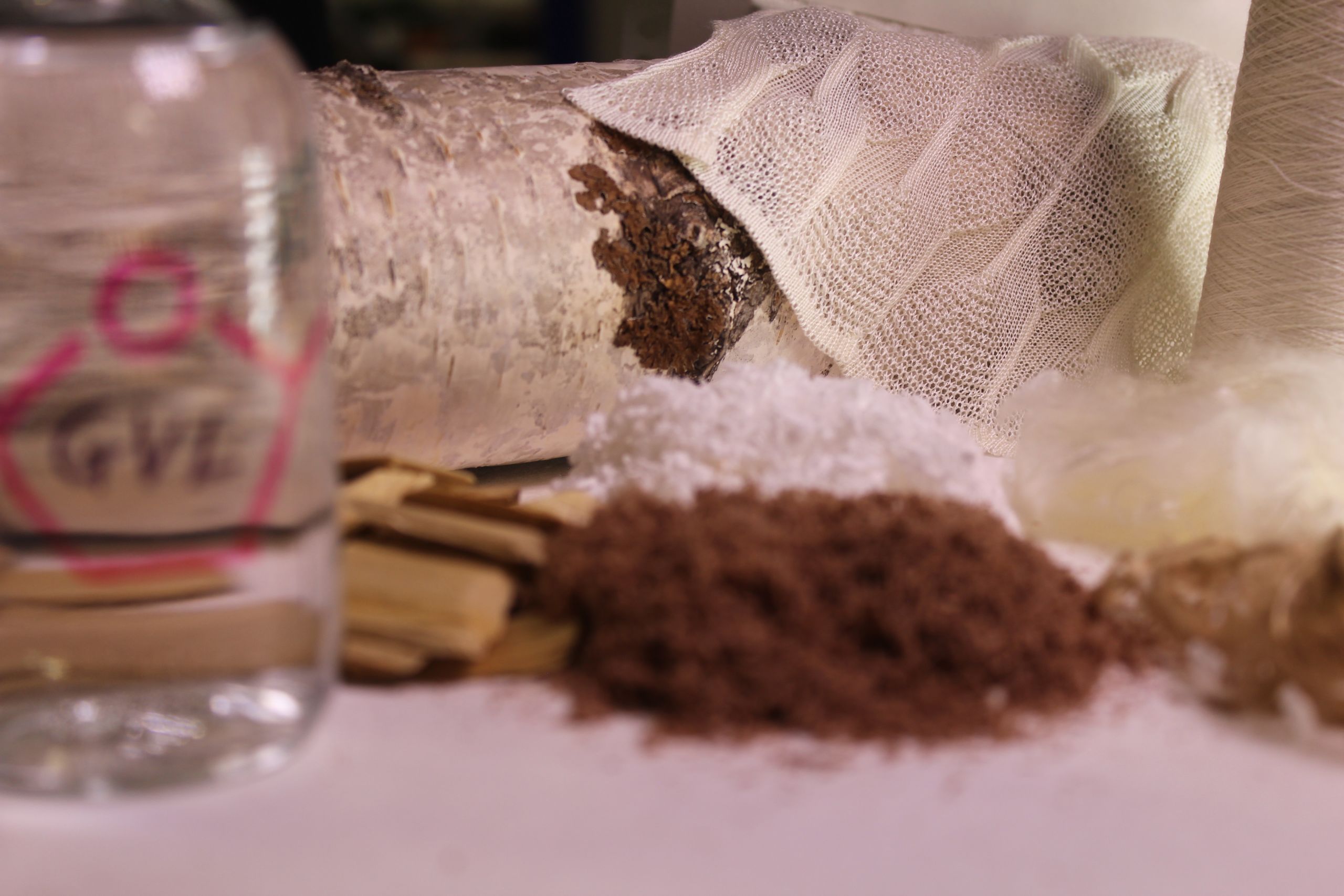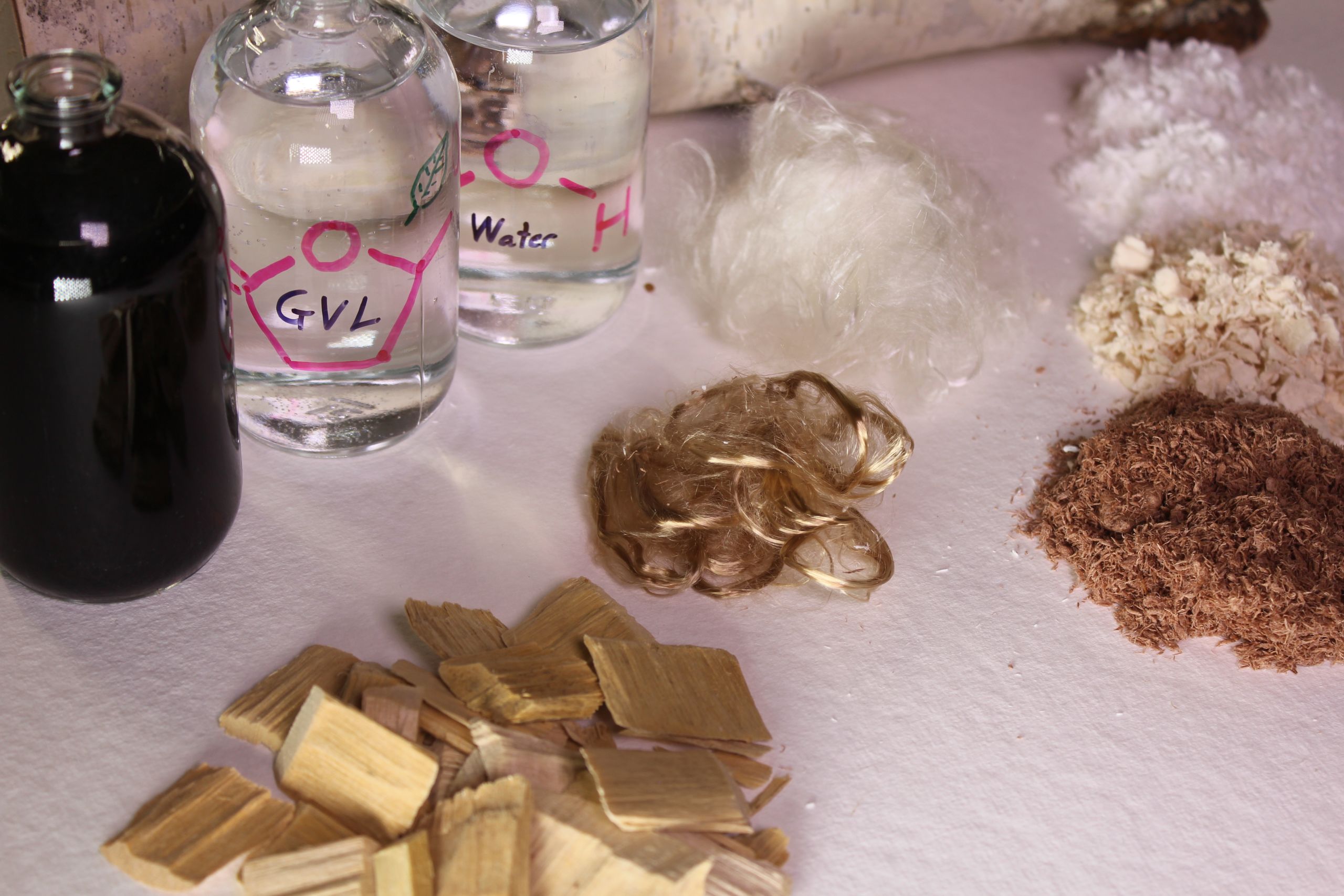 Realising the future with natural materials 
Biomaterials are often considered the best choice for the future. For the last ten years, CHEMARTS activities have helped students and the wider public to imagine how using wood- and plant-based biomaterials wisely could help tackle resource scarcity and environmental problems.   
However, when innovating with and for such new materials, we need to consider the entire system, not only one part of it.
No plastics in the oceans, no more wasting of natural resources, flourishing biodiversity all around us – what a future to dream of and work for!
---
Photos: Eeva Suorlahti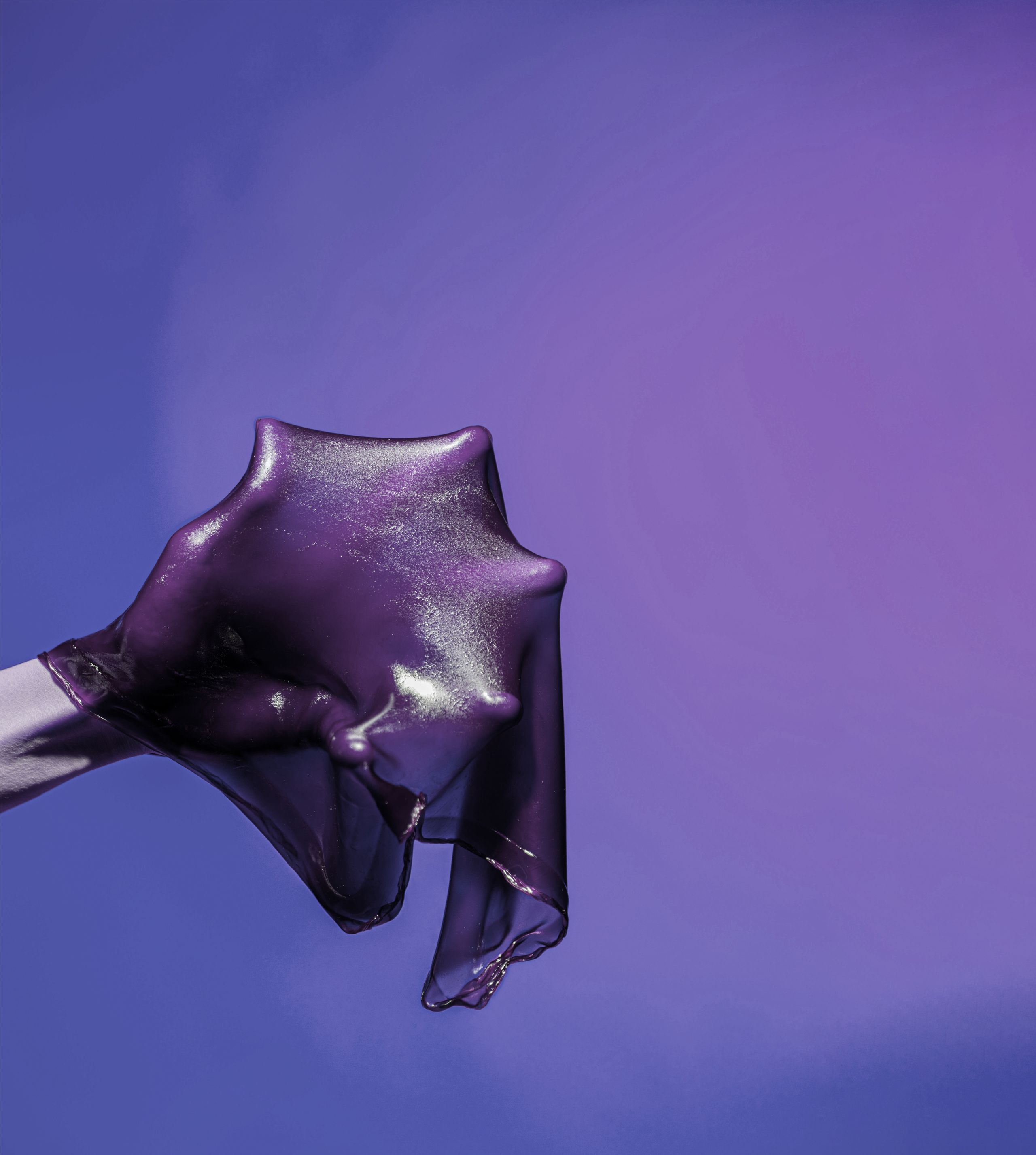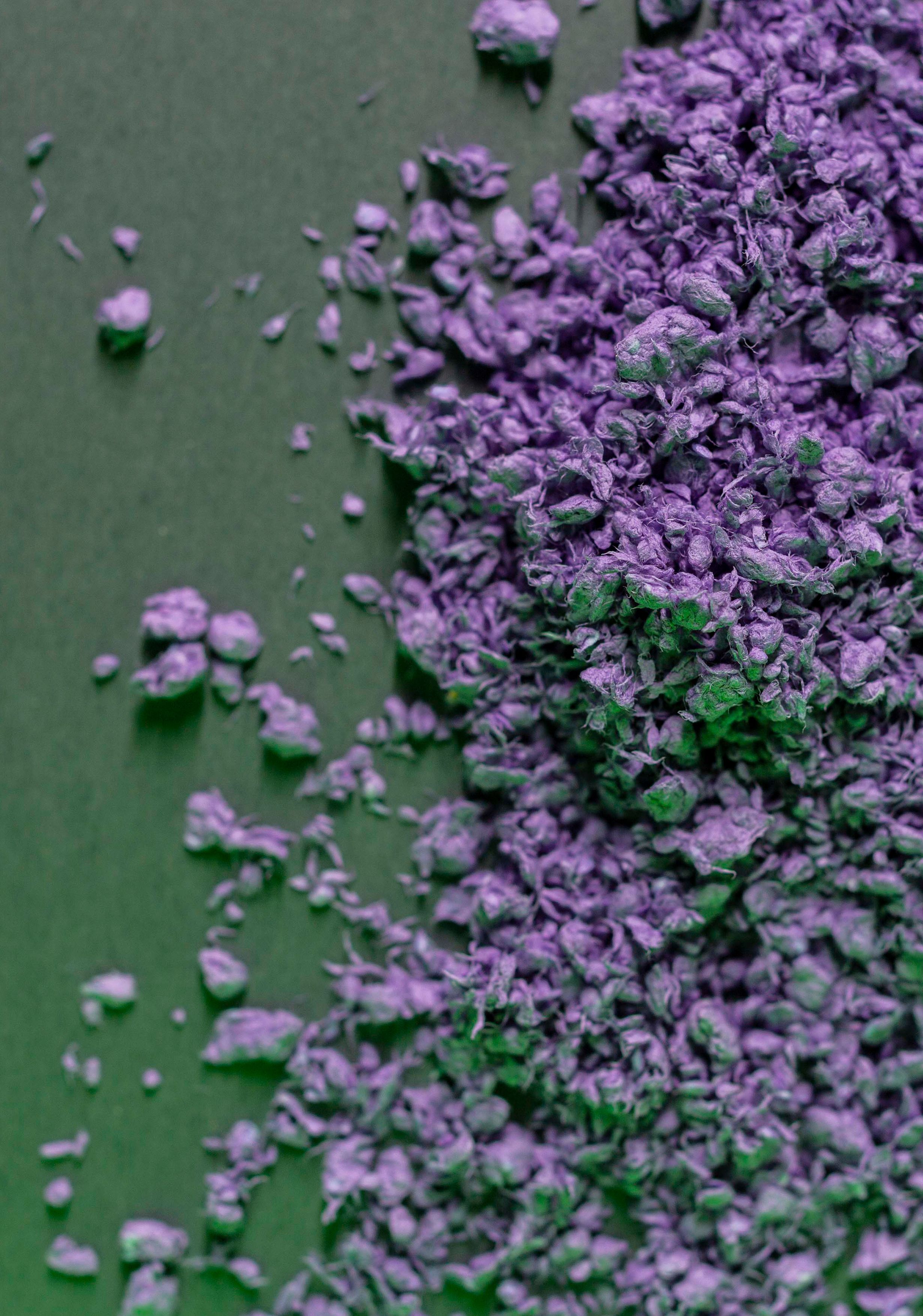 Bio-based shrink-wrap for vegetables    
DipWrap is a sustainable alternative to the plastic shrink wrap used to cover grocery store products. Vegetables and fruits are dipped into the aqueous DipWrap solution, made of agar, cellulose nanocrystal and carnauba wax, which then forms a solid film.  
Once peeled off, the biodegradable film is easy to dispose of. The team developed the idea and concept for DipWrap on the CHEMARTS course. The project was chosen to represent Aalto University in the Biodesign Challenge competition and nominated for the Outstanding Science Prize.  
---
Photos: Ena Naito, Louise Kallai, Emilia Ikävalko, Sari Kupiainen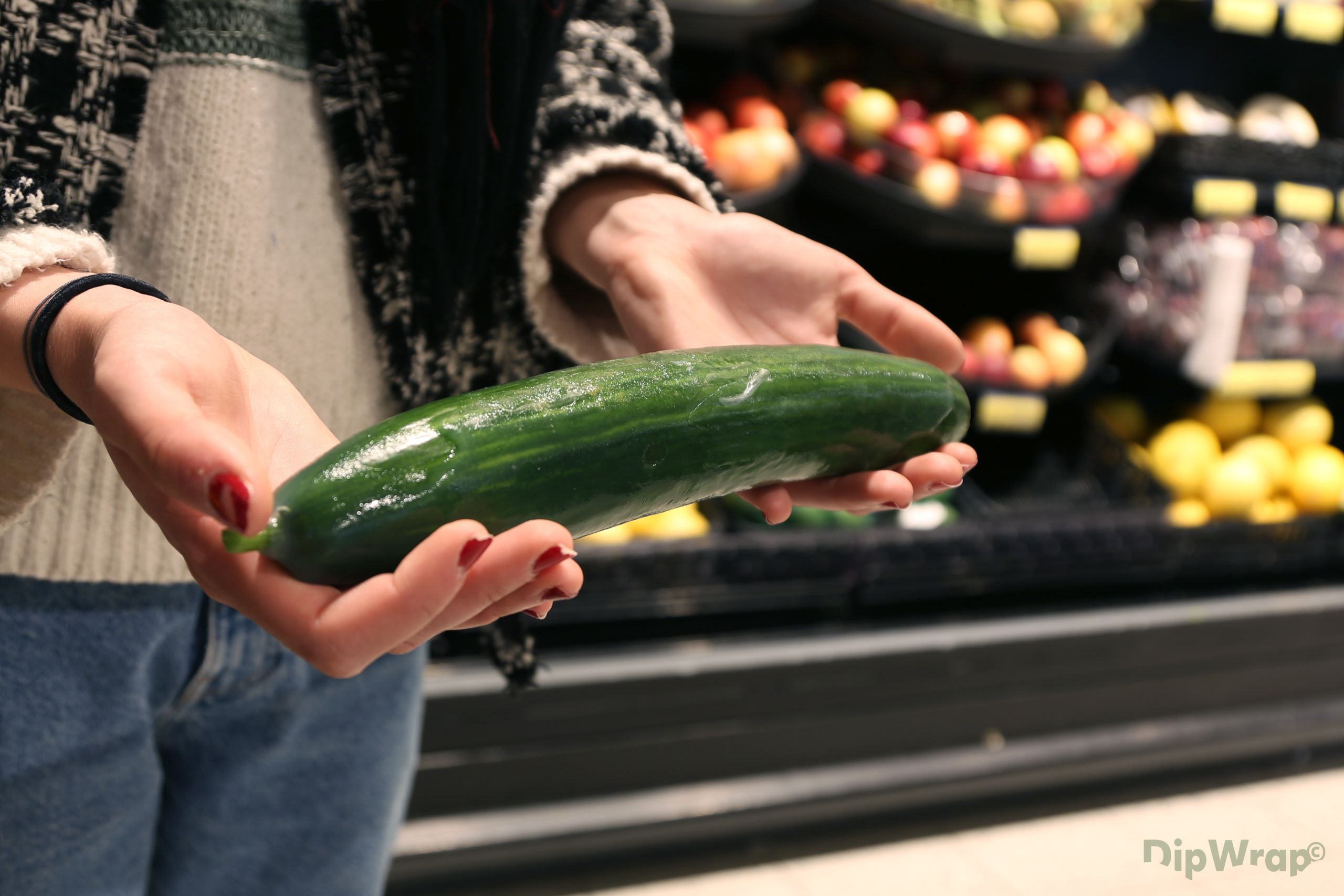 From landfill to stunning "flower-leather" 
A massive amount of cut flowers, 40%, is thrown away before reaching consumers.
Flower Matter converts flower waste into materials like paper, bio-leather and bio-foam.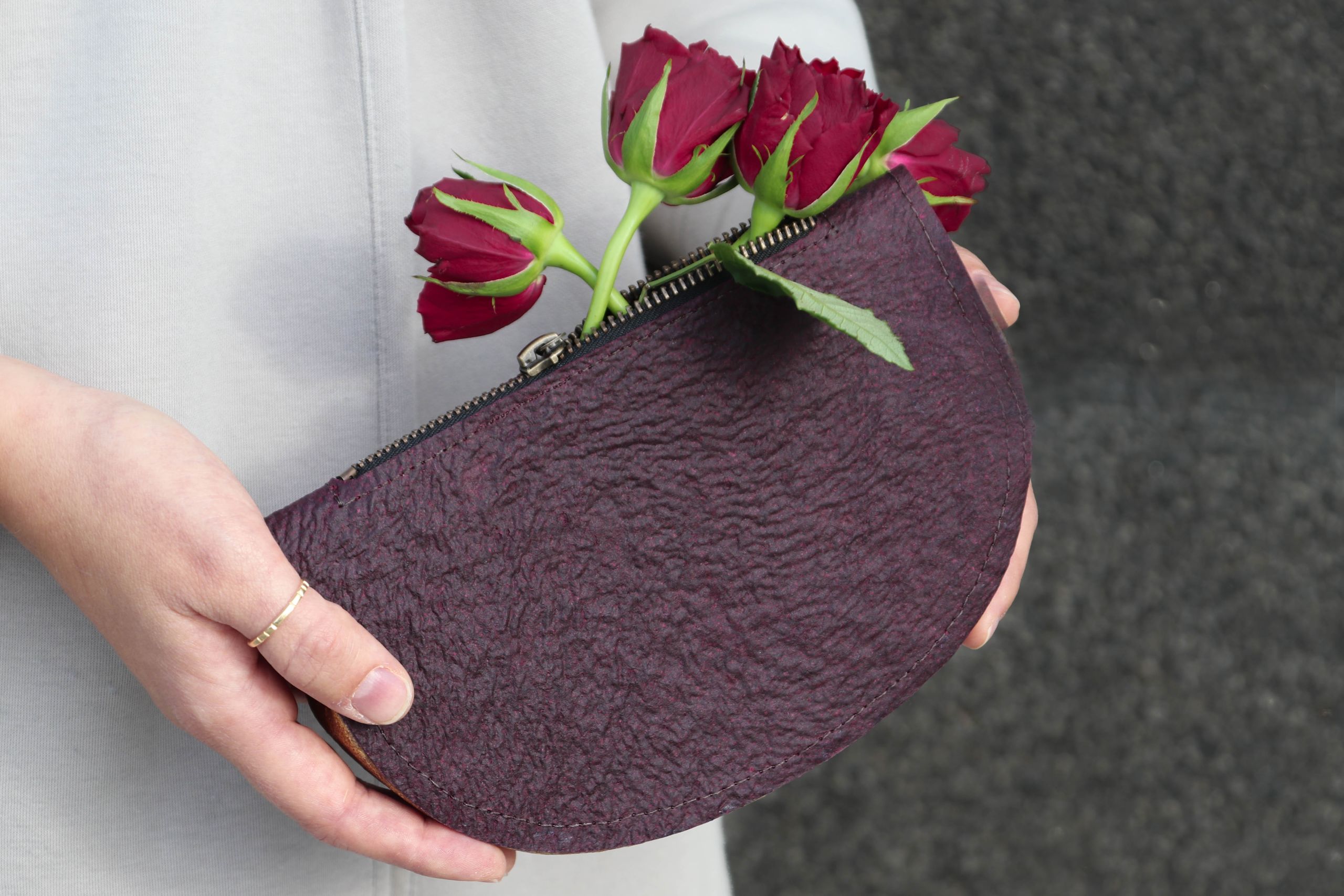 Flowers are plants, which means that their stems and leaves contain fibre that can be processed into pulp. Petals contains less fibre, but their vibrant colours can be made into pigments. These two bases can then be utilised to create a limitless range of bio-based materials.   
Flower Matter has the potential to be used in a wide range of products both within the floristry sector or as an alternative to chemically-treated, plastic-based materials such as bouquet wrapping paper, animal leather or phenol-formaldehyde foam.
---
Photos: Irene Purasachit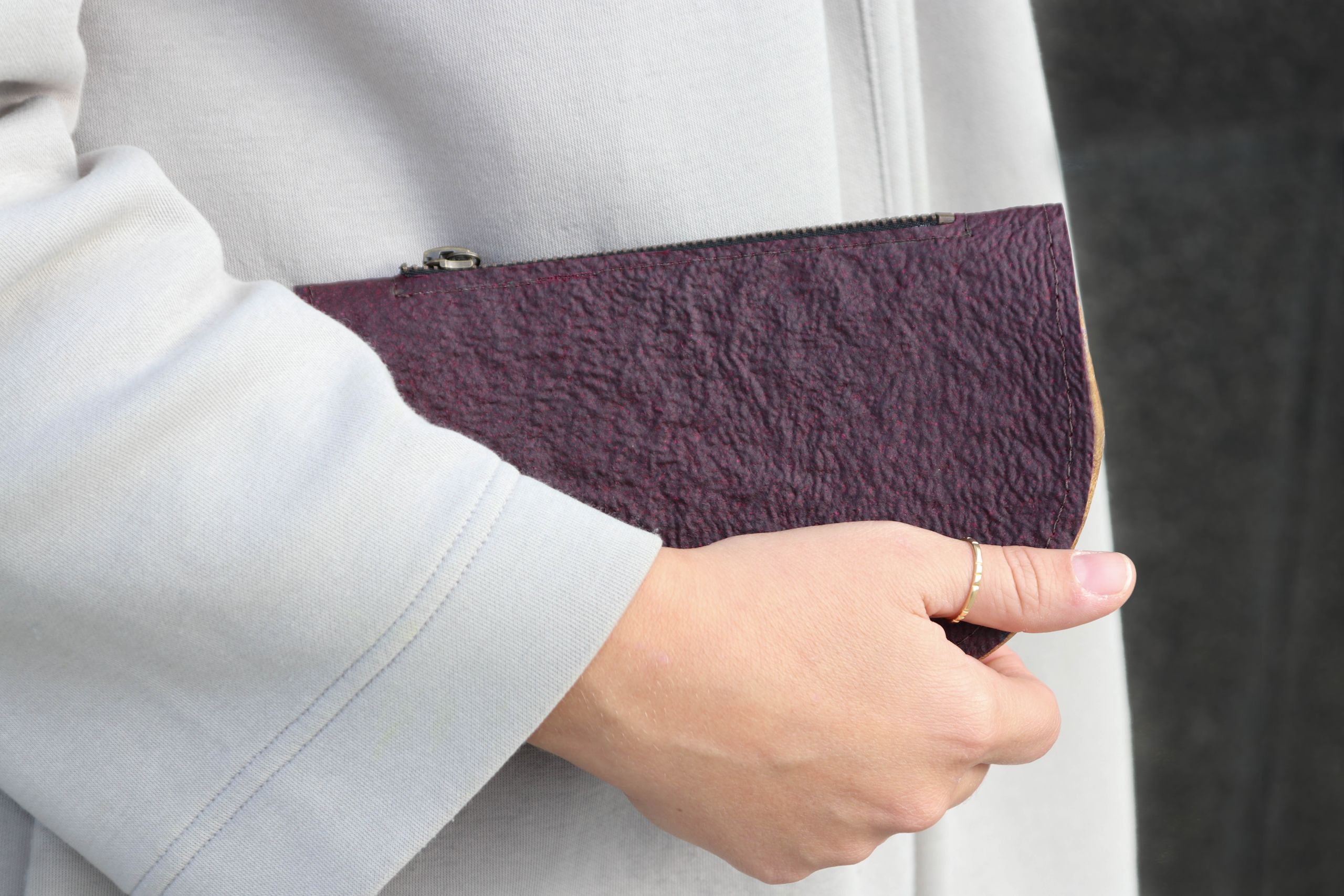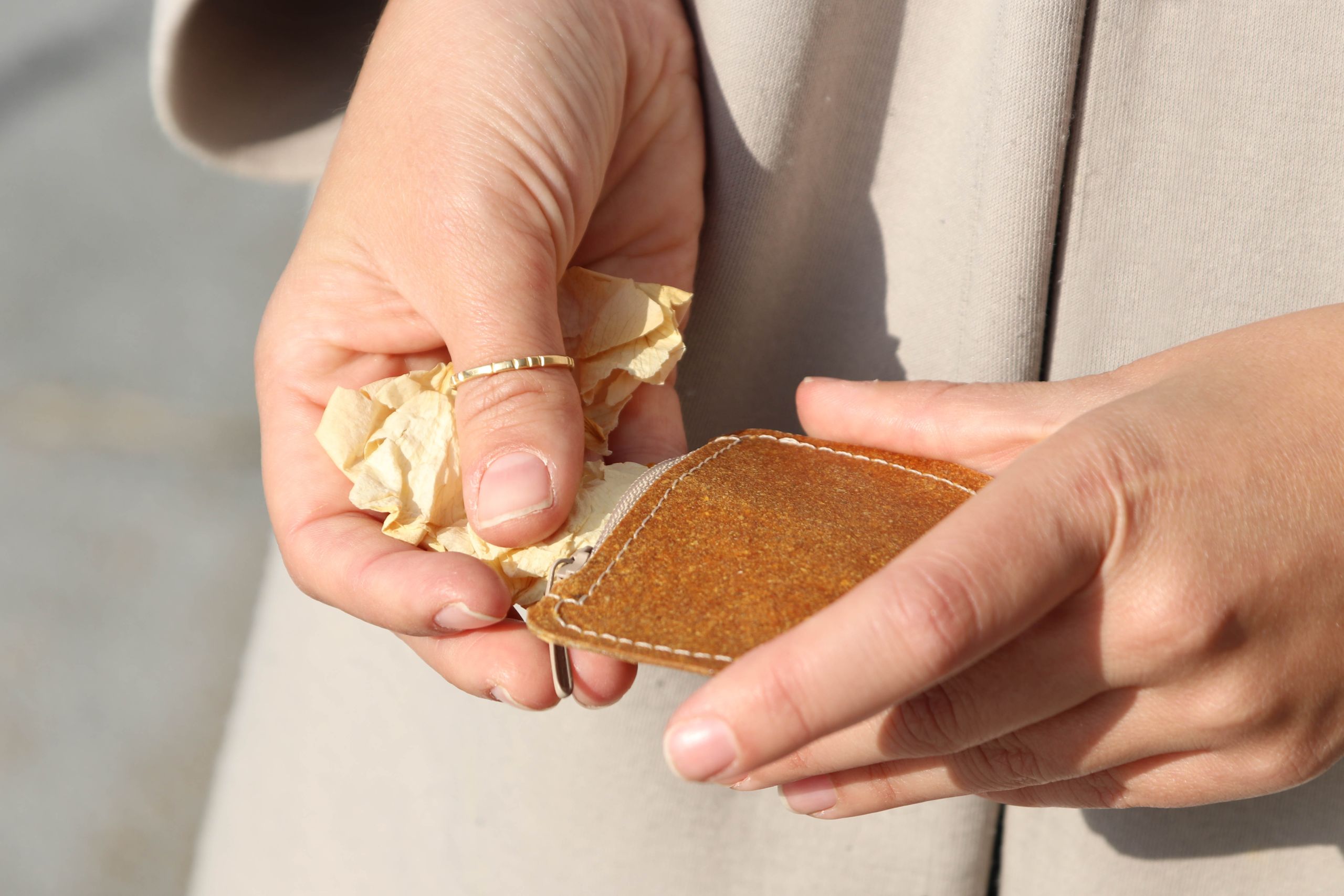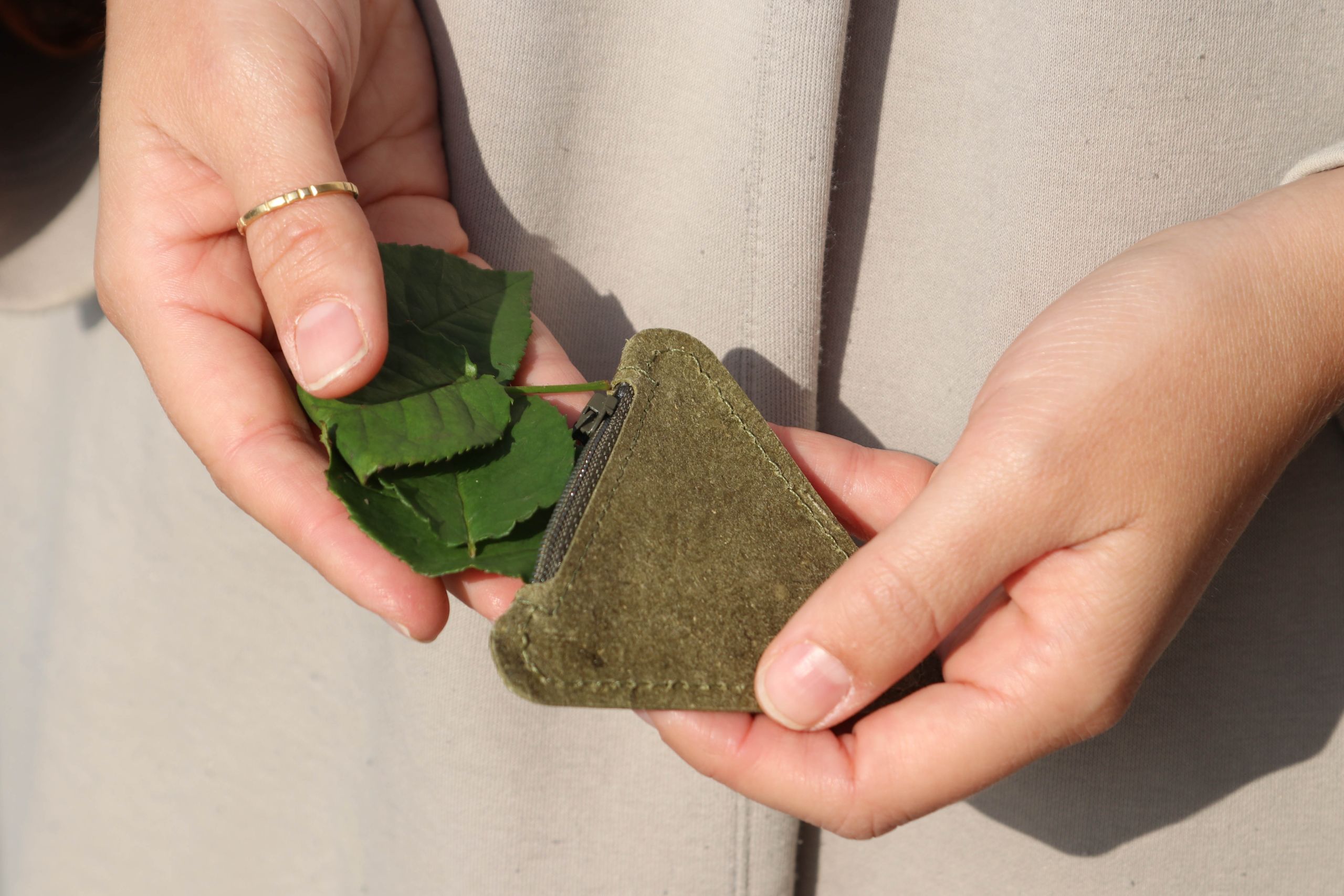 Antibacterial bandage made of fungi
Inspired by Finnish nature, Betulina is a minimally designed water-activated bandage. Some 80% of its raw materials are derived from fomitopsis betulina, the birch polypore.
The bandage consists of three biodegradable layers: a water-resistant chitin coating, a skin-safe adhesive layer and a non-adhesive healing layer.
Birch polypore has been used in traditional medicine all around the Northern Hemisphere for over five millennia – it is anti-inflammatory, anti-bacterial, antiviral and has antiseptic properties.
---
Photos: Mikko Raskinen (1), Esa Kapila (2&3)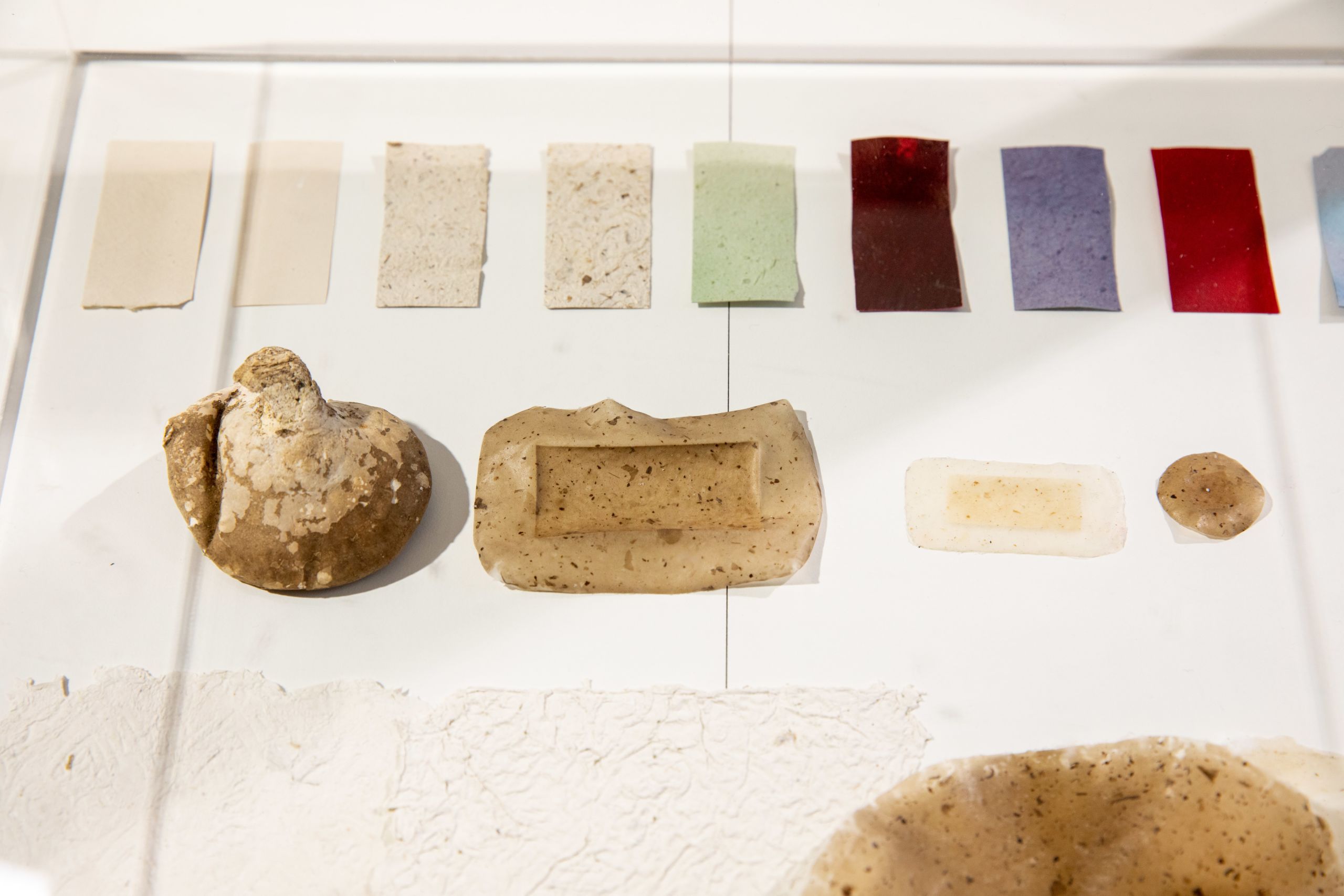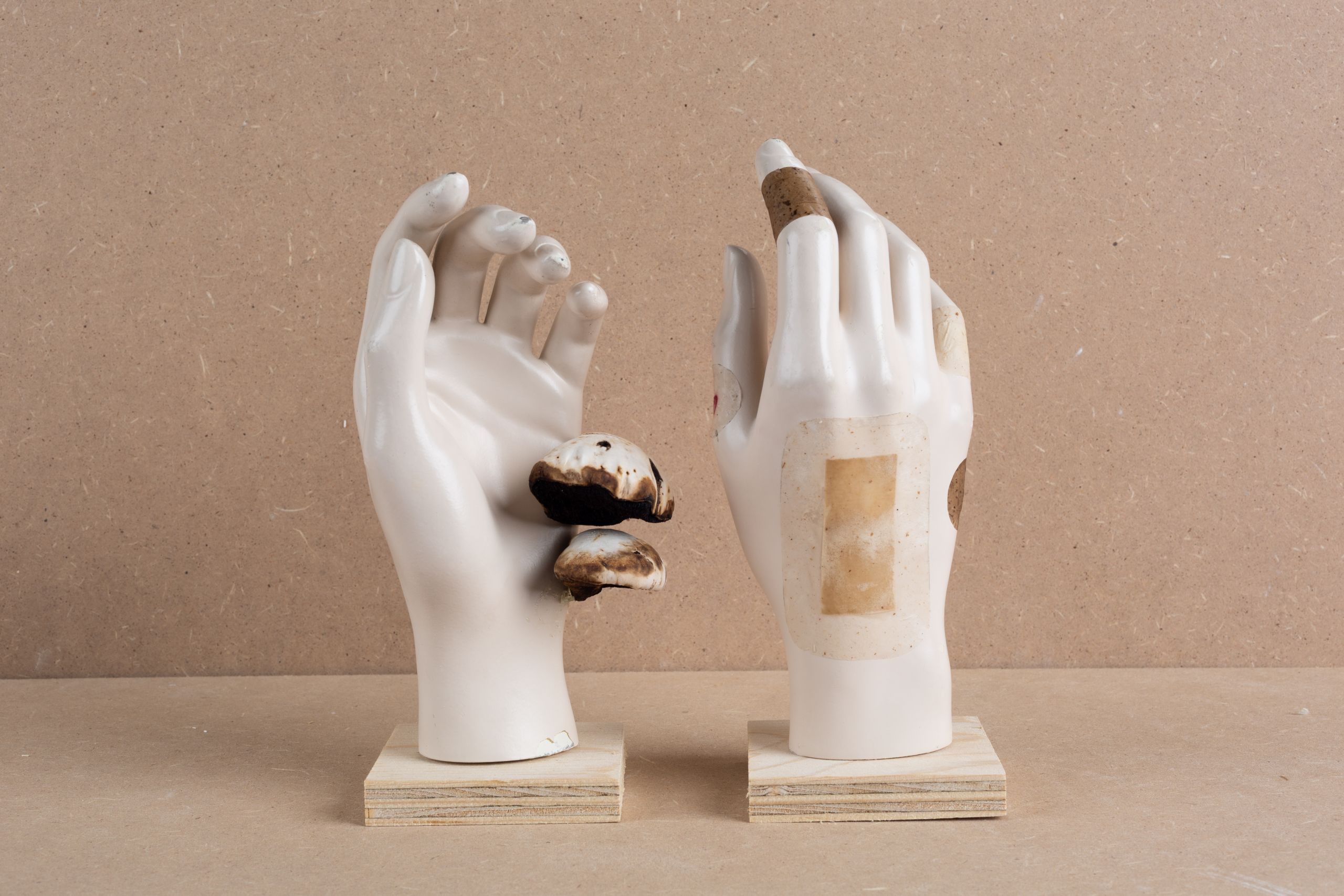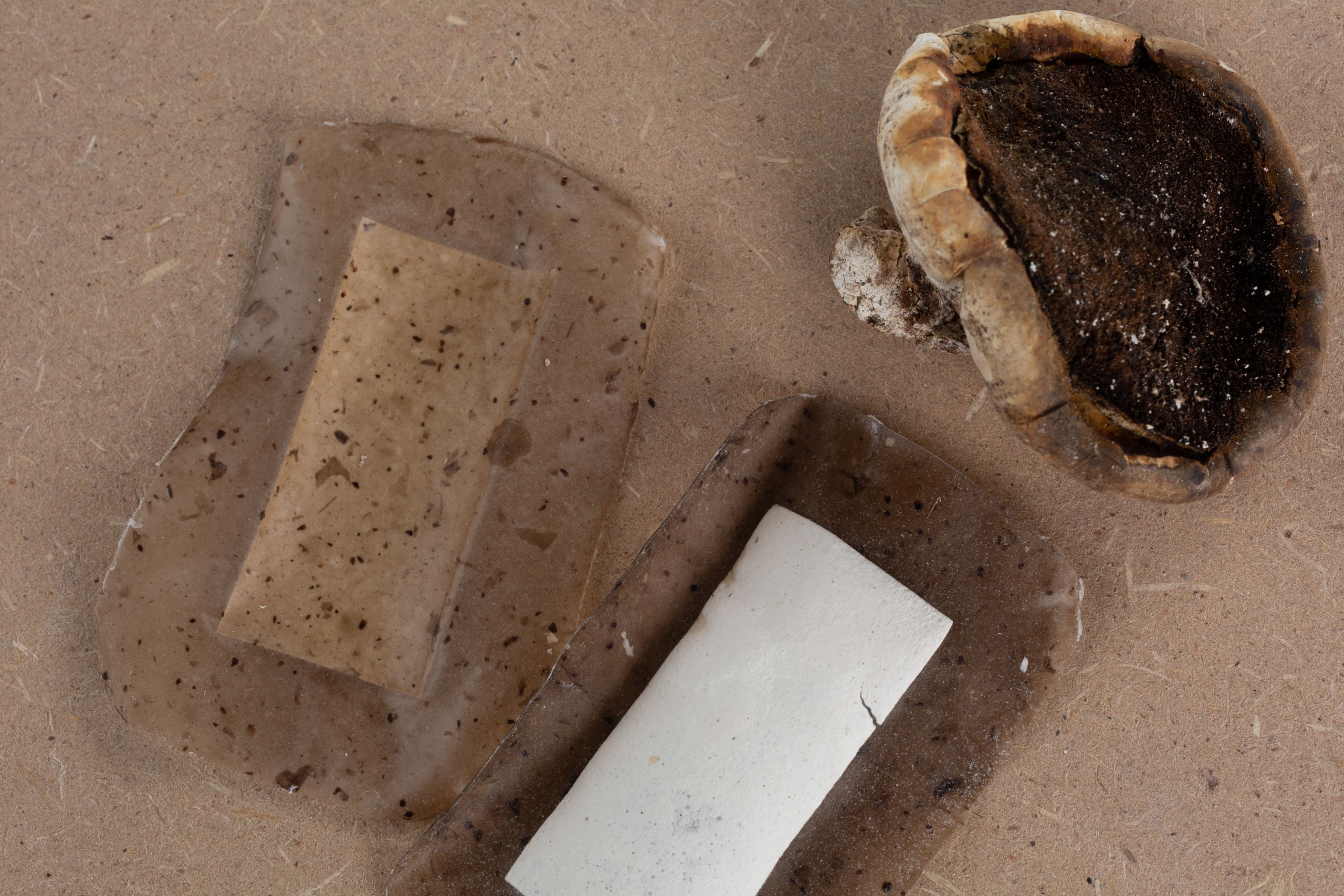 Seaweed Shrine honours the forests of the seabed 
The nutrient content of a water body can be reduced by removing and utilising fast-growing algae. In the eutrophicated Baltic Sea, this reduction of nutrients is urgently needed to restore an already partly-degraded ecosystem and its biodiversity. 
Removing algae from the Baltic Sea will directly benefit the sea itself, but the biomass can also be used as a natural and sustainable material. Bridging disciplines enables us to discover ways in which algae can be used to make things and how this helps bring about a rebalanced sea, cleaner air and a reduced material footprint.
We showcase our practice-based research and explorations that connect design, marine biology and chemistry in order to engage audiences in ocean literacy, material development and the agency of seaweed. The aim is to alter mindsets regarding the ways to care for our surroundings and attend to worlds that are more than human. The "Seaweed Shrine" exhibits outcomes of an ongoing exploration into algae and seaweeds by students and staff at Aalto University and the University of Helsinki.
---
Photos: Mikko Raskinen (1,2) & Julia Lohmann (3)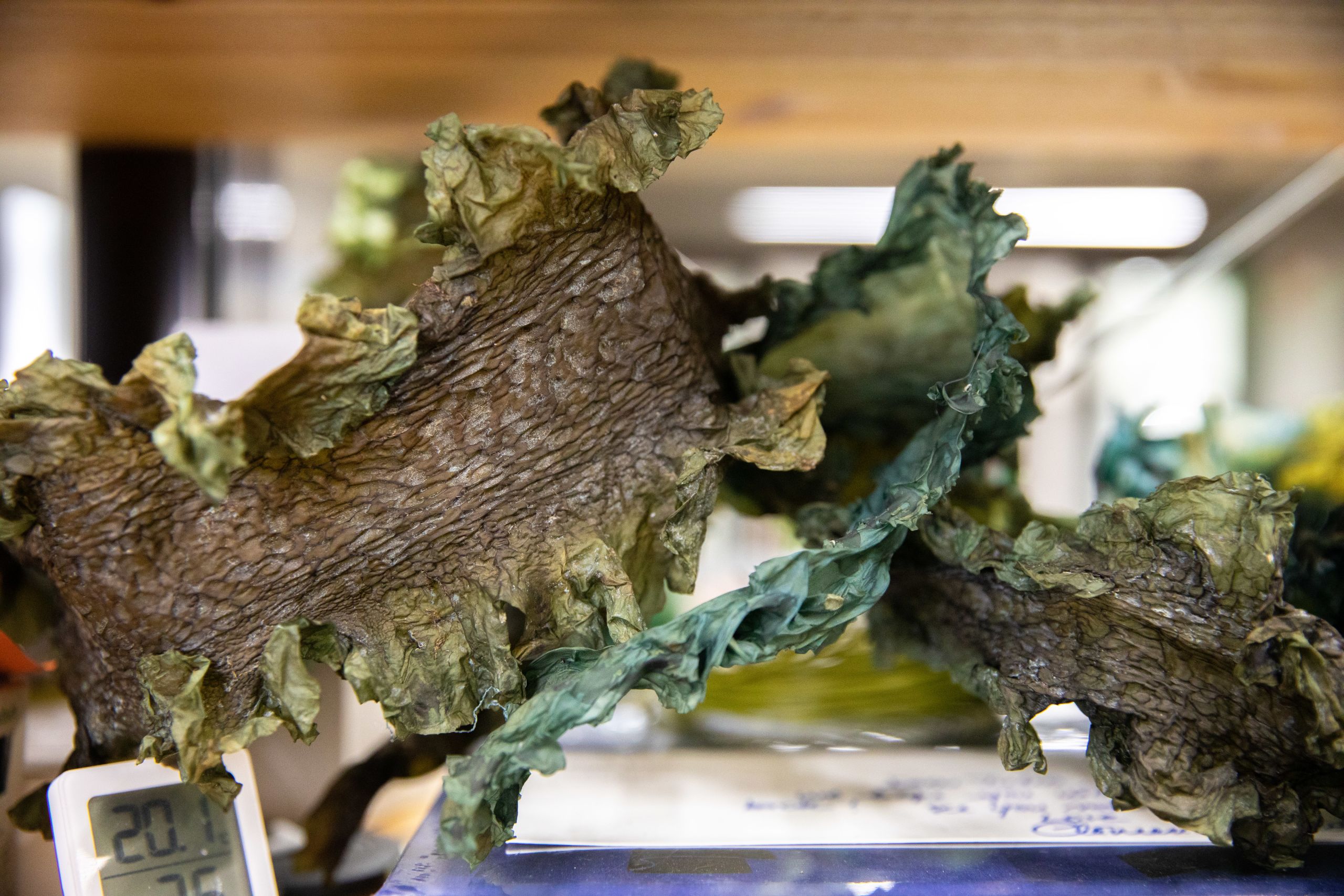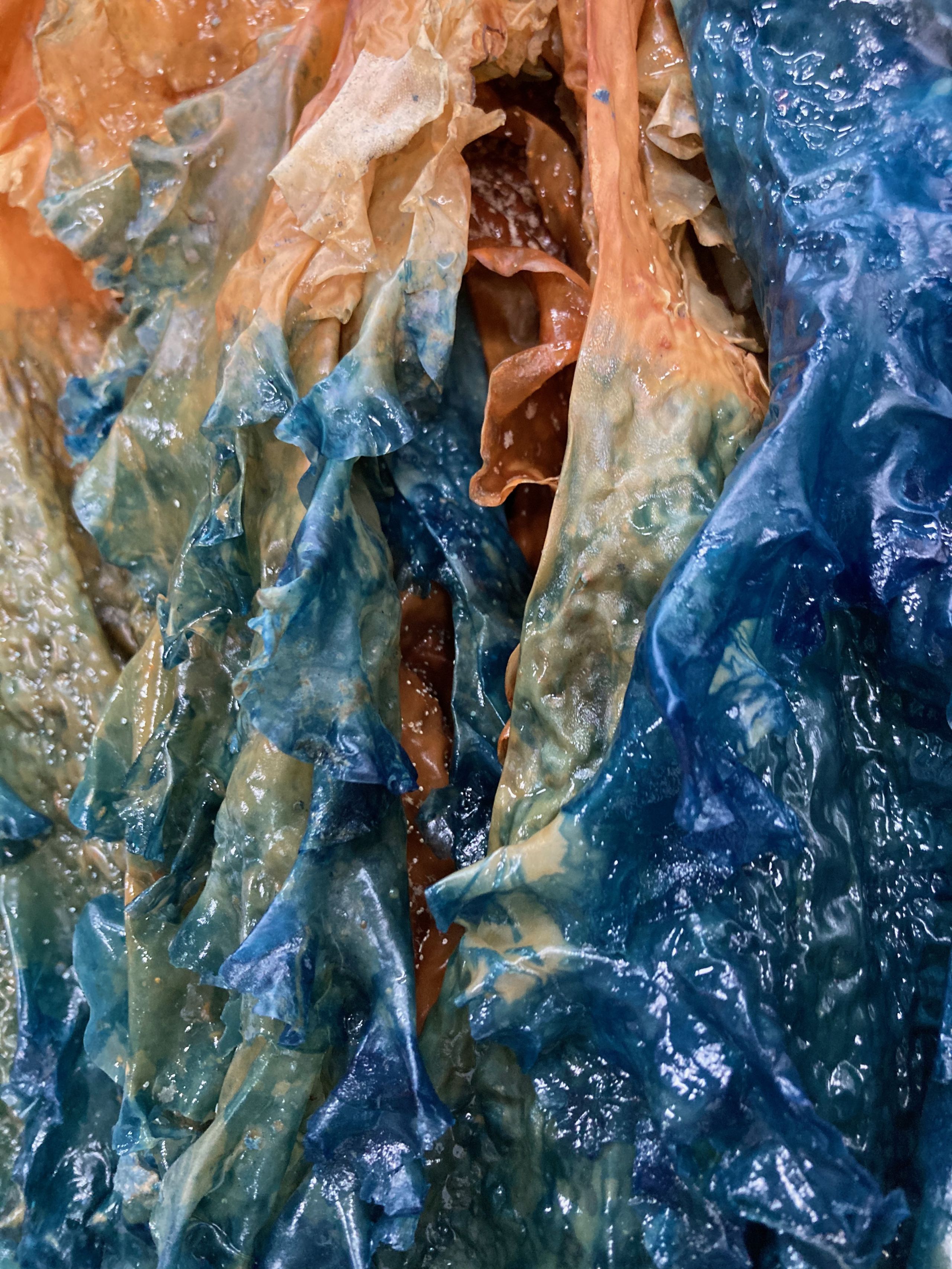 Is renewable solar energy produced renewably? 
The artscience enquiries of Towardless contribute to poetico-critical discourse and thinking on resource use in the realm of solar energy and technology. 
Global tech discourse employs a biased perception of what is renewable. Solar energy is considered renewable because sunlight is inexhaustible, yet solar panels are not renewable – they are made with mined, non-biological, non-renewing materials. How far are we from a 100% renewable, biological solar cell?
Since 2017, the Aamo ArtScience group has developed solar cells with natural dyes extracted from the aronia plant into a new form of visual art and craft, using this effort as a nexus for transdisciplinary Art-Science exploration and discovery.
"Blck Vlvt" ties together a famous JMW Turner painting and aronia in a hand-painted solar panel. In addition, a unique selection from the solar archives of physicist Janne Halme and the artist Bartaku will be on display.
Photos: Anne Kinnunen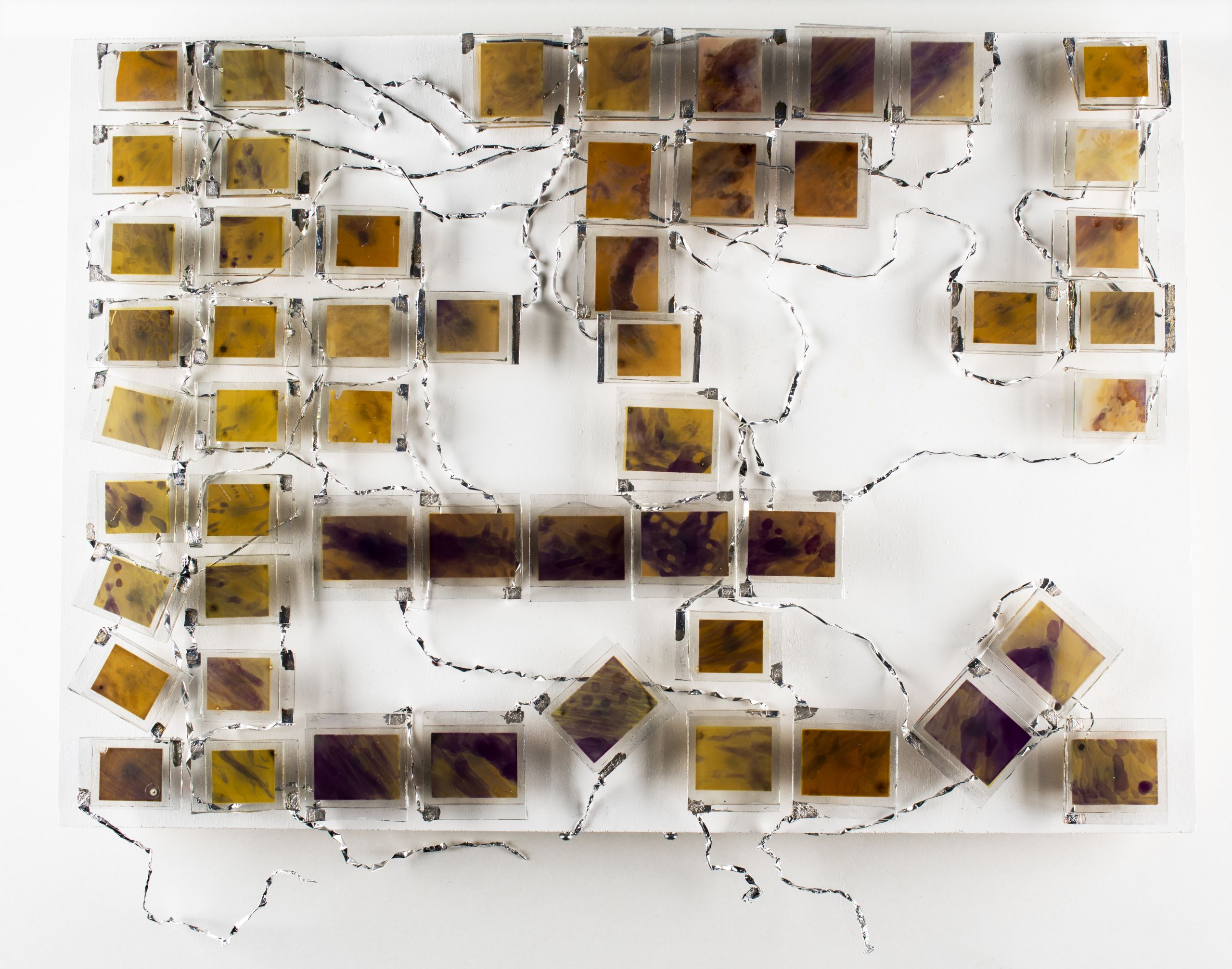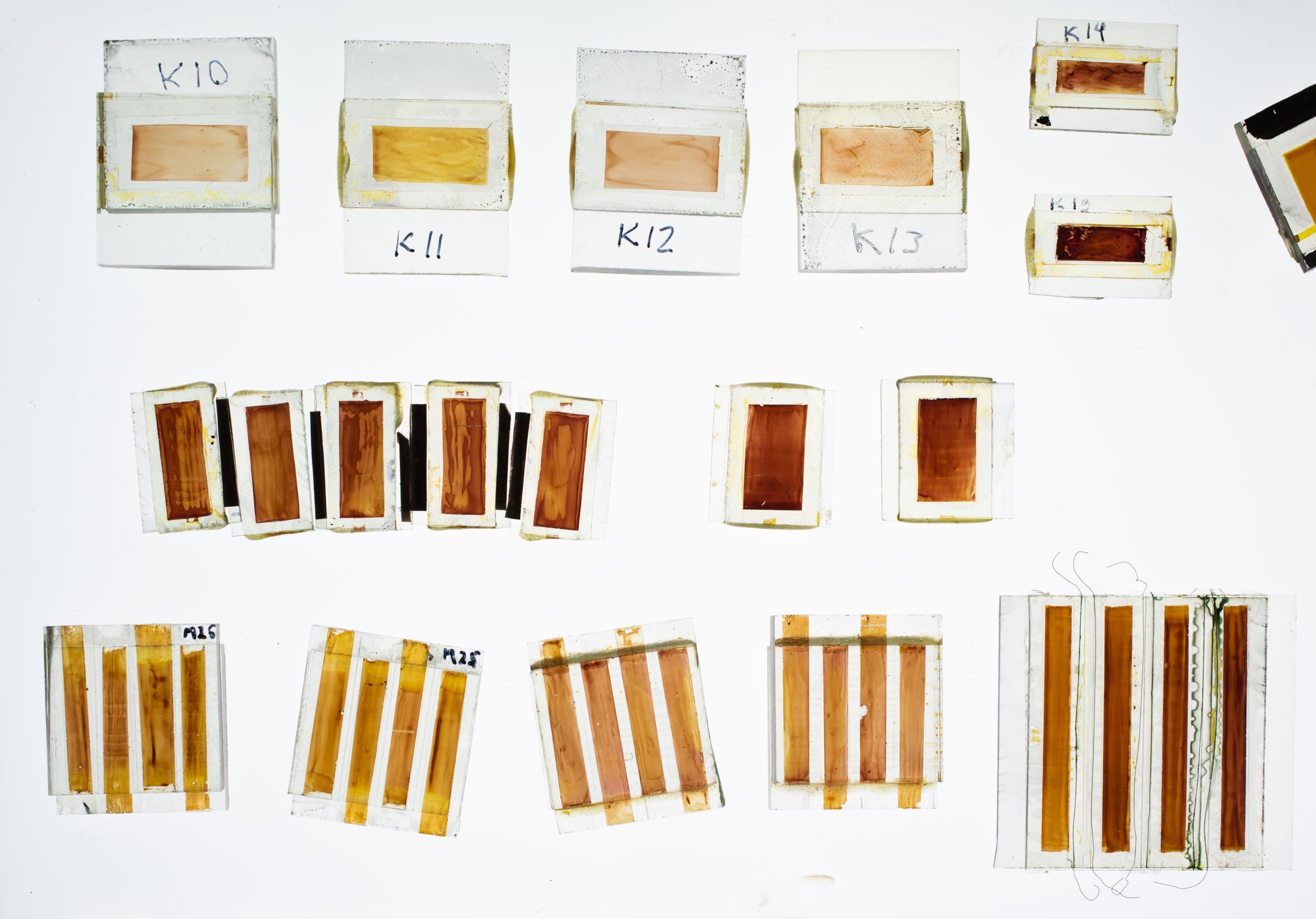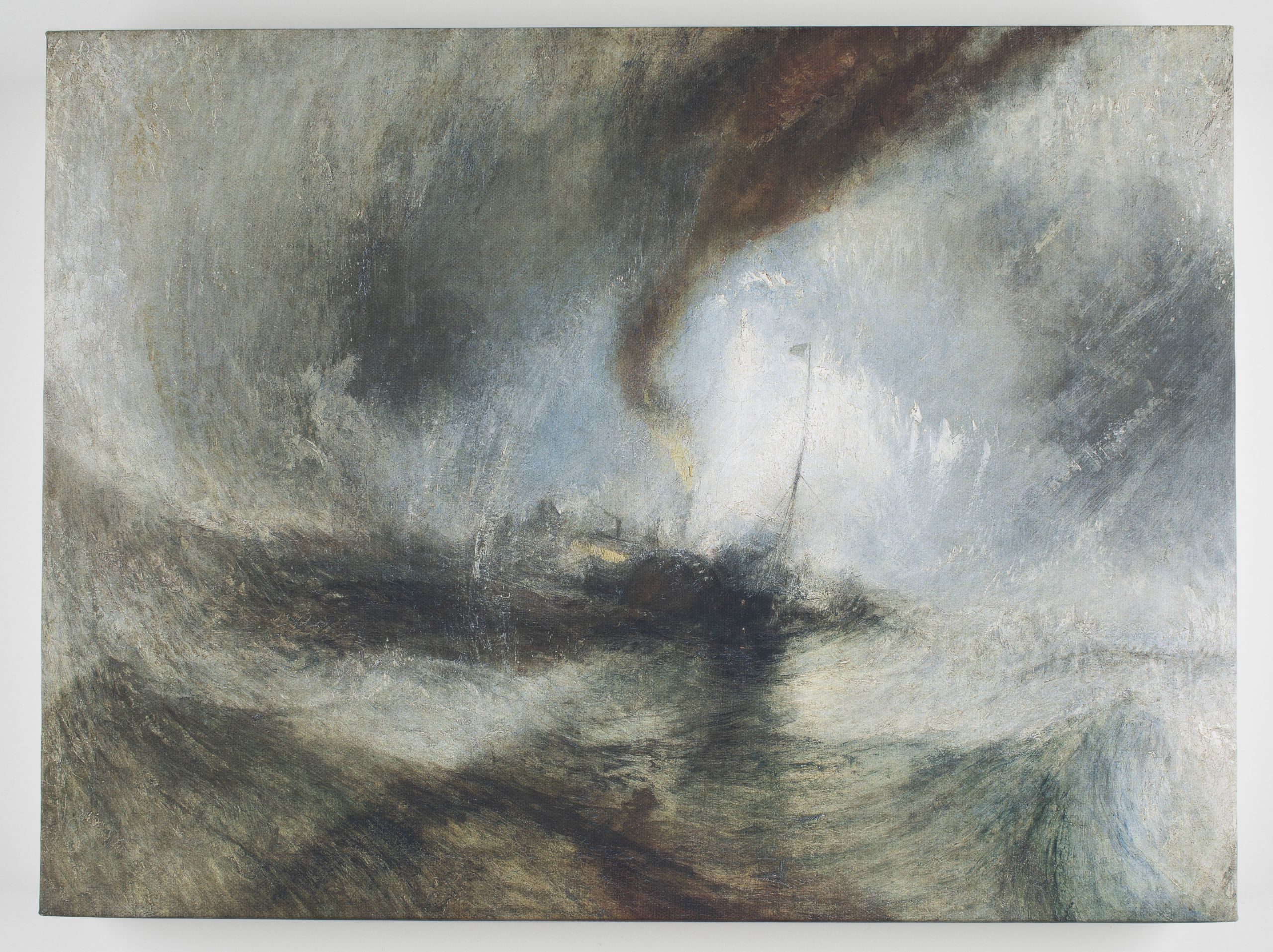 Join our event 
Materialising the Future: CHEMARTS with Datemats @Material Village 
9/9/2021 15.00 onwards 
Expert presentations on emerging materials. Datemats is an Erasmus+ funded project that aims to implement a unique design-led teaching method in the field of emerging materials and technologies for students with a mixed background in design and engineering as well as to boost the transfer of knowledge and technology from academia and centres of research to industry.